Transesterification and other applications in large Pharmaceutical company PRD dept.
Introduction
In October 2012, a newly installed Amigo Workstation was rolled out across the PRD dept of a large multi-national pharmaceutical company. The system is now in routine use and has proved popular with many general chemists who had previously not used automated parallel reactors.
Study details - Investigation of the rate of transesterification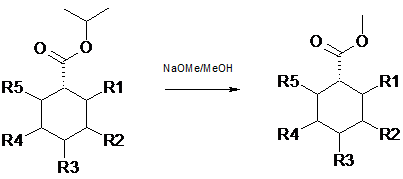 Goals
To determine the rate of ester conversion versus unwanted epimerisation of starting material and product

To define end point for reaction

To establish how long the reaction can be held and under what conditions before rate/quantity of epimerisation becomes unacceptable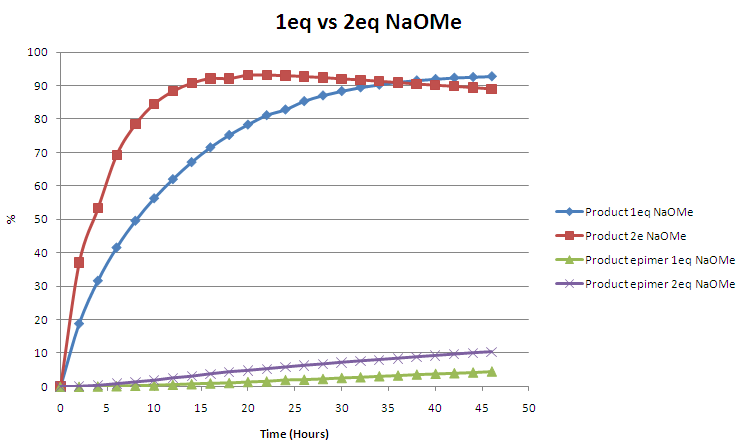 Results showed rate dependency on NaOMe concentration
(1eq takes twice as long as 2eq with respect to both required trans esterification and epimerisation rates)
Conclusions
Rates of trans esterification and epimerisation proportionally effected by temperature
Need to run below 0°C to give time in plant to turn around IPC and get quenched before epimerisation level unacceptable
Maximum in-situ yield is ~93% main band with minimal epimerisation of starting material
Highlights
Individual reactor control enabled rapid parallel temperature optimization
Regular and precise sampling generates convincing reaction profiles for accurate decision making
Comments from process development chemist #1 "a non-technologist"
Great bit of kit. A system that is very easy to set up and get running even for a technology novice like me.

Great to just to leave Amigo running in the background whilst I get on with other chemistry and then come in the next day to find all my quenched and perfectly measured HPLC samples ready to go and give very reproducible profiling data.

Perfect if you want accurate sampling over an extended period of time for reaction profiling or stressing experiments.

Ideal for the work I was doing, comparing the rates of competing processes (one desired one undesired) and assessing how different conditions affected this.
Other applications & comments from users
Process Development Chemist #2 – Stressing of dimroth reaction
The simplicity of the software interface allows a rapid set-up regardless of IT skills.
Process Development Chemist # 3 – DoE of phosphorylation conditions
Easy to use, Amigo provided reliable data and the information gained from experiments has been used to set parameters.
Process Development Chemist #4 – amidation temperature and eq optimisation
Excellent piece of kit with easy set up and software - reactions on within a matter of minutes!
Technology super-user
Effective, efficient, easy to use and very robust.
Other User Case Studies
Amigo Chem is very pleased to learn of the valuable information that its workstation is providing to its users in today's industrial PRD laboratories.
The Amigo Workstation is now installed in a number of industrial sites; however, you will note that these case studies lack the user name, their company name and any IP sensitive chemistry detail. With resources of our users being limited, seeking permission to publish such material is impractical. However, Amigo Chem hopes that the published case studies will help convey the value of our workstations to the user and their business.
If you have generated any information with your Amigo system that you think will be of interest to others, please do not hesitate to contact us.